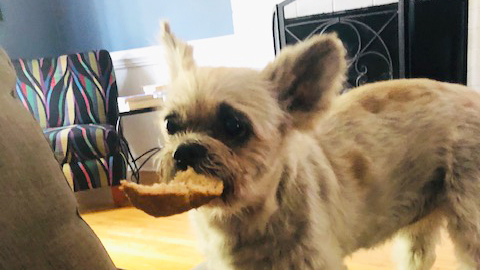 "Hey, your dog just took my garlic bread!" Daisy, my sister's Shih Tzu, was sitting on the floor sweetly staring at me, but I never expected her to jump up on the couch, snatch my bread, then stand there ever so proud of herself. With the initial disbelief quickly subsiding, I grabbed my camera to take a picture. I've been doing more of that lately—stopping to take a picture of something that strikes me funny. Capturing these moments is a way I'm working to train my brain to pay attention to the good stuff, the light-hearted stuff, even the weird, unusual stuff that just needs to be frozen in digital-land. This way I can look back at it and smile.
For some people, smiling is not something they have been doing much of due to this pandemic we are in. Yes, lots of things are getting back to normal, but some of our fun stuff is still not readily available. This makes it all that more important to look for the funny in things. I posed this challenge last year at Night of Joy and pray that many of you who attended are actually doing it. If not, now is a good time to start.
The scripture gives us good reason for this. Proverbs 17:22 says, "A cheerful heart is good medicine, but a crushed spirit dries up the bones." NIV I also like how The Message Bible says it, "A cheerful disposition is good for your health; gloom and doom leave you bone-tired." A joyful, merry, happy heart actually brings healing to our physical bodies. It's a proven fact. The opposite is also true: when we are perpetually sad, down, feeling crushed, it zaps our strength and we may end up struggling with depression and sickness. Trust me, as leader of GriefShare, DivorceCare, CCM, etc., I KNOW we have many valid reasons to feel sad. Yet, when we ask God to help us through our tough times, He wants us to look for the good, the joy, even in the midst of the difficulties. He uses these things to encourage us and strengthen us.
Proverbs 17:22 is proof of a very important fact. We NEED to laugh! It is essential to our health. So, Women's Ministry is offering a whole night of merry, happy, and joyful at our Night of Joy on September 17 at 7 pm. Grab some girlfriends, mark your calendar, and get ready for a night of fun that will lift your spirit. Plenty of room for social distancing in our super-sized, super sanitized sanctuary! Register at asburytulsa.org/JOY2020. See you there.