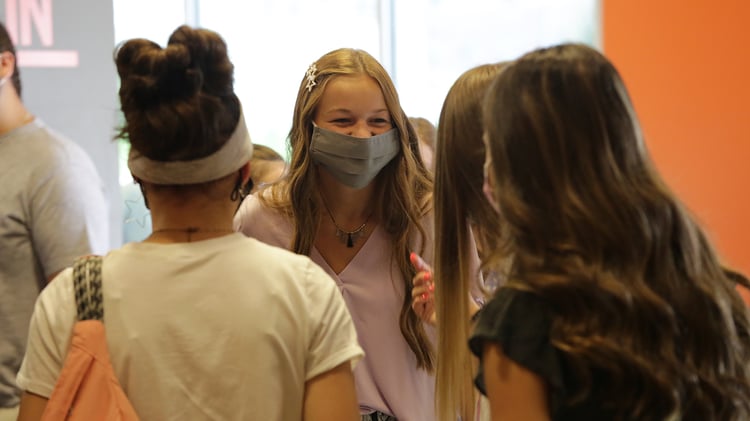 Our small groups are based around the concept of building a Christian community between students and adult leaders. Some of these practices can be adopted in the home to create an environment where faith development will occur with your family.
Pray together. Every week our students and leaders pray with one another and for one another. I believe something powerful happens when students know that their parents pray for them and hear their parents praying for them. Let conversation with God be a foundation in your home. Ask the question, "How can I be praying for you?" Your child may not have an answer every time. That is ok! The goal is to set the example of approaching God with all parts of our lives.


Focus Questions. Our small group leaders have a set of questions that they ask each week at the start of small groups. These questions will differ based on the age of the students. These questions aim to get our students in the mindset of thinking about what God is doing in their lives during the week. Ask your child, "What is God teaching you right now?" or How have you experienced God's love this week?" These questions are impactful ways to see what God is doing in your student's life. They may not have answers when you start asking these questions. Again, the goal is to get them in the mindset of looking for God in everyday life.


Read Scripture Together. We go to Scripture to give insight and authority over the topic we are discussing that week. Scripture sets the direction for the small group community. There are two different ways to engage with Scripture to have a positive impact. First, let them see you reading the Bible regularly. This is a good example for your student. Reading God's Word is a vital part of being a follower of Jesus Christ. Second, read Scripture with your student. Include them in your quiet times. Let them know what you are learning and have a discussion.
When you implement these practices, your student will grow up learning the ways we engage with God. These spiritual disciplines are a gift God has given us to relate to Him. These will have on your student will be profound because they will grow up seeing their parents rely on God and His word. Over time, it will become a natural part of your family's home life.