I am Melissa Renkema, the Coordinator of Young Adult Ministry here at Asbury! Welcome to the first email of the new monthly Young Adult Newsletter! This monthly newsletter will be used to send out communications and information about what is happening in the realm of young adults, as well as relevant devotionals, encouragement, and awesome stories from the lives of young adults here at Asbury.
The term "young adult" can be ambiguous, and so at Asbury we break up young adults based on demographic, rather than age. This allows us to meet the needs of those in the various and multiple life stages that happen between the ages of 18-35. This also helps to create sustainable and strategic discipleship, something that is key in the life of every believer as they grow in Christ and learn how to help others follow Jesus. Here are the programs and activities we have available for young adults and young families.
Current Programs
18.22 Group is for young adults between the ages of 18-22. This group used to be called "College Ministry" and has been renamed since many people after graduating high school are not going off to University right away. We want to be nonexclusive and welcoming to everyone in this life stage and so the name 18.22 Group works better for this group of young adults. To stay up to date, be sure to follow the Asbury 18.22 Group Instagram, @asbury18.22group
Sunday nights we meet in Room 2901 at 6 pm for worship and Bible study. Anyone is welcome!
We have retreats each semester, a winter mission trip, and we visit various college campuses – often bringing high school seniors along with us.
Mark your calendars!

October 22 – OSU Campus Dinner, 6 pm at Hideaway
October 29 – OU Campus Dinner, 6 pm at BJ's Restaurant
Chainbreakers is a Discipleship Community for young adults single and married! This group meets Sunday mornings at 9:30 am in Room 2500. We focus on Biblical learning on Sundays, and we have home groups that meet during the week that focus on fellowship. We have monthly social gatherings, a fall lock in or retreat, and several missional opportunities. This is a great place to connect and belong and anyone is welcome to join us!
Young families have several Discipleship Community options!
Rooted meets at 9:15 am in Room 1502
Covenant meets at 9:15 am in Room 2821
Ignite meets at 11 am in Room 2821
We also have Parentology as a way to encourage and equip our parents! Parentology is a dinner that happens twice a year. Childcare and dinner are free! After dinner we have a keynote speaker, followed by break out sessions that focus on a relevant topic for parents. At our April Parentology we discussed technology, and for our upcoming November Parentology we will be discussing finances! Registration for Parentology on November 15 is open now! Register at myasburytulsa.org.
Featured Young Adult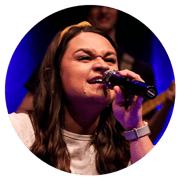 Kylee Broadhurst
Modern Worship at 11 am
This month I wanted to take some time to introduce you to Kylee Broadhurst! Kylee is the worship leader for the modern service, and so I thought it would be good for you all to get to know her better as well as to hear her heart for worship at Asbury.
What's the biggest thing you've seen God do in your life?
I'm not sure that I can point out one moment in my life where I thought, "That's when God has moved the most". I feel like He has been a constant presence and guide in my life since I became a believer at the age of 12. He has blessed me abundantly in my life, from my family, to my job, to my church community. My hope and prayer is to always be in tune and award of His hand in my life.
What place does your religion have in your life?
In high school, I would say that religion, corporate worship, and my relationship with Christ played a large role in my life. Then this shift happened for me in college, through a mentor and a campus ministry, where I realized — hey, Jesus is the only thing that matters. It was kind of liberating honestly, I felt freed from all this worldly junk. John Piper's quote "It's not about us, it's about God and that is an understatement" really resonated with me.
What part has Asbury played in your walk with Christ?
I fell in love with Christ and became a believer in the 7th grade on an Asbury Spring break Mission Trip to Houston. I subsequently got involved with small groups, the youth worship band, and worked part-time in the nursery. The members of the church have poured into me and loved me so well as I have grown up. I feel they've rallied around me and supported me in countless ways. I am excited moving forward into the modern worship leader role and serving the congregation in that capacity, being able to give back to the group of people that helped raise me.
What is your heart for leading worship?
I think singing prayers, proclamations, and praises to our King as a congregation is one of the most beautiful and intimate things we can experience on this side of Heaven. Worship has a way of tearing our guards down and just allowing us to be with God as we are. I like modern worship specifically, because I feel that the atmosphere created, the volume and the lights darkened, we almost become One as a body of Christ worshipping — which is so powerful. I'm incredibly grateful for the opportunity to lead my friends and family into a time of worship each Sunday, and what I truly desire most each Sunday is that people are brought to the Throne Room and experience authentic worship.
What do you want to see God do at Asbury?
I want the people of Asbury to understand who Christ is and who they subsequently are in Him. When we have a clear understanding of who our Creator is and why we were created, our capacity to have an eternal impact on the world around us increases tenfold. I hope that through our time in worship, we can be reminded of that each Sunday and that we then carry it with us throughout our week and daily lives.

Melissa Renkema
918.392.1109
mrenkema@asburytulsa.org

My hope for this newsletter is to inform and encourage you all on the efforts in Young Adult Ministry that we have going on. Growing and improving our Young Adult Ministry is a constant priority, and I would love to hear from you about it!
If you ever have any questions, suggestions, or ideas – please do not hesitate to reach out to me! I look forward to see all that God has in store for Asbury