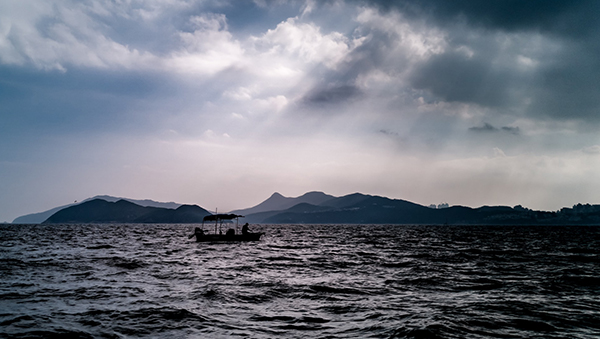 It's amazing how quickly our lifestyle has radically changed with the onslaught of a strange virus. Who would have ever predicted that a time would come when our churches would be totally empty on a Sunday morning? There are no gatherings in the city and we are unaware of what tomorrow is going to bring. If ever there was a time that would test the reality of our faith, this could be it.
I'm reminded of a story in Mark 4:35-41 where the disciples were with Jesus in a boat when a life-threatening storm erupted on the water. They were unprepared to face such a storm that suddenly came upon then, and they began to panic. And the amazing thing is that during this entire time Jesus was sleeping peacefully in the stern of that boat. Instead of following the actions of Jesus in their situation, the disciples allowed the situation to dictate their reactions. After begging Jesus to do something, He calms the storm and then He asked, "Why are you so afraid?"
I am wondering if that wouldn't be His question for us with all that we are facing today, for we've never encountered a storm much like the one we are experiencing today. This strange coronavirus known as COVID-19 has frightened people all over the world. But the virus is not the only thing people are afraid of. Watching the financial markets fall as they have over the past couple of weeks and the number of those who are not out of work has created some anxiety for nearly everyone.
And the sad thing is, fear can be a terribly debilitating emotion. It can awake you from a deep sleep and keep you up all through the night. It can haunt your dreams and steal away any promise of a good night of peaceful sleep. And yet, as we read through the Bible, we are repeatedly told not to fear. I've not counted them all, but I've been told that there are 366 Fear Nots in the Bible, one for each day we face, one even for leap year.
There are a couple of things we need to keep in mind with all we are facing today. One is that we belong to the One who has the power to bring calm to every storm. Instead of focusing our minds on the storm that is around us, let us focus our attention on the One who can enable us to deal with it. Fear is living with a warped vision, focused only on our problems, rather than on God's promises. God has promised that we never have to walk through these valleys alone. Rather, we heard Him saying to us, Fear not, for I am with you; be not dismayed, for I am your God; I will strengthen you, I will help you (Isaiah 41:10). Maybe we need to claim the promise that was given to Joshua as he was preparing to lead those chosen people into the Promised Land, Be strong and courageous. "Do not be frightened, and do not be dismayed, for the Lord your God is with you wherever you go (Joshua 1:9). We know that God doesn't keep us immune from trouble. But He does tell us that He will be with us in the midst of that trouble to bring forth His victory (John 16:33).
In the Book of Exodus we are given the story of how the Children of Israel were camped by the edge of the Red Sea. It was night, pitch black except for the pillar of fire God had placed between His people and the Egyptians. Old Pharaoh had changed his mind and sent his chariots and warriors to bring the people back home. You could only imagine the fear that came upon them as they could hear the screaming threats of the enemy filtering through the darkness. What would they do when dawn broke? And yet, who could have possibly imagined the miracle that awaited them? Hidden in the text of that story is the tiny phrase, and all that night the Lord drove the sea back with a strong east wind (Exodus 14:21 NIV). While the Israelites were losing a night's sleep quaking in their boots, the miracle was occurring all through that night of despair. Because it was at night they could not see what the wind of God was accomplishing on their behalf. You remember the story, how they walk through those parted waters to safety and freedom. The next day simply manifested what God had done through the night.
Perhaps at this time your life is filled with a sense of darkness, unable to see what God might be doing. Just because we can't see it doesn't mean that God isn't working all things together for the good (Romans 8:28).
FROM THE DEVOTIONAL: Streams In The Desert, WE FIND THESE WORDS
When nothing whereon to lean remains,
When strongholds crumble to dust;
When nothing is sure but that God still reigns,
That is the time to trust.
'Tis better to walk by faith than sight,
In this path of yours and mine;
And the pitch-black night, when there's not outer light
Is the time for faith to shine.
Holy Father...I Am So Weak. I Want To Trust You...But It Is So Hard To Walk By Faith...When I Can't See What You Are Doing.