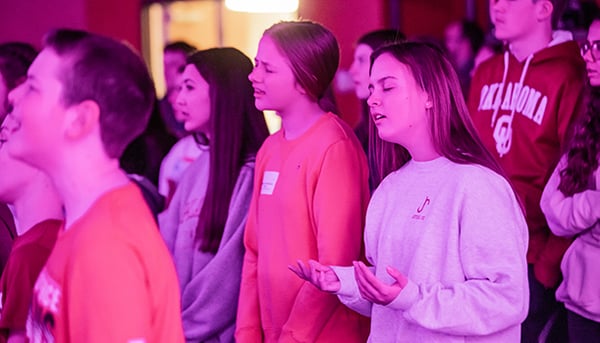 The way services and programming are changing, we always want to equip and empower you as the parent or guardian to be able to lead the student(s) as their primary source of discipleship. I know this season has been difficult with natural rhythms changing significantly, but that doesn't that new rhythms can't blossom. The thought of doing leading in this context can be nerve-wracking because you ask yourselves, "What if they ask a question I don't know?" or "What if we disagree on some things?" Don't be afraid! That's why we have some resources to help. Below is a resource for this week. We give you the main point of the message, Scriptures, some student ministry context, and a goal so that you can measure your success! We already know you are going to be AWESOME! We know this is going to be an amazing experience for you and your student. Let us know how we can further assist you in growing closer to Jesus together!
BOTTOM LINE
When you don't know what to do, remember that your problems can position you for a purpose.
SCRIPTURE
Genesis 40:1-8 NIV - "And we know that in all things God works for the good of those who love him, who have been called according to his purpose (Romans 8:28 NIV)."
GOAL
To help students to understand that while pain exists, God can use it, and their faith can grow through it. There is more to their story than the painful situations.
Parents/Guardians, remember students have all sorts of challenges and pain points we may not see. Students who have experienced trauma, sickness, disability and difficult family situations can find a message like this one particularly difficult and may find themselves wondering, "Would God really do this to someone on purpose?" In your conversation, be careful to point out that God can USE any situation to help others, but that doesn't mean God caused or created the pain or trauma in their lives. While we want students to know God can use any hurt for a greater purpose, the objective today is not to lessen or devalue the pain our students are currently experiencing. This is not a coping mechanism; it is a perspective change.
DISCUSSION QUESTIONS
Imagine there was a movie about the origin story of your life. What would be on the movie poster and why?
How are our actual origin stories similar or different from the movie poster?
How can problems, disappointments, or letdowns affect our relationship with those who are around you?? What about your relationship with God?
What is a situation that you hope God can use but you can't see it right now?
When someone is hurting, what are some things that people say, or do, that is helpful? What are some things that people say, or do, that is not helpful?
How has hearing someone else's difficult situation helped you in your own difficult situation?
For upperclassmen: Read Romans 8:28. It can be tempting to understand this verse as saying God will make all of our problems go away, but we know that isn't always the case. What are some ways God may use a situation for good without making it go away?