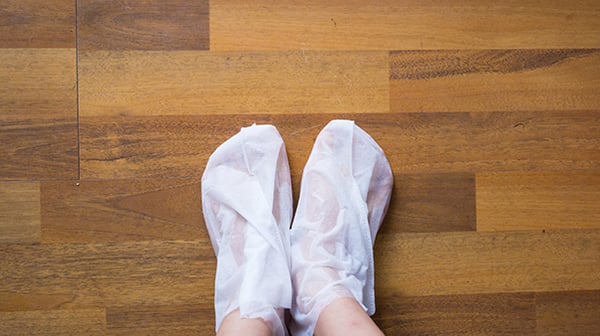 So, I recently jumped on the self-care train of 2020 and decided one random Tuesday night to treat myself and put on one of those little sock masks for my dry feet. After about an hour into this "exfoliating process," my boredom led me to read through some of the product reviews. I discovered quickly that I had engaged in a process that... um, I was simply not ready for or remotely desired. Ladies, I had accidentally put on an intense SEVEN DAY deep PEELING foot mask.
You can laugh... but my poor feet just didn't know what had hit them! Has anyone else found themselves quickly committing, making a rash firm decision, or maybe even saying something that can't be taken back? Then suddenly you know you are deep in repercussions.
My first mistake here was truly not reading the reviews/ directions first! In my life, over and over again, I have found myself quickly jumping into a situation that I haven't stopped to refer to my manual, the word of God, or implored (all-knowing) God on what He thinks about the decisions I'm about to make.
Similarly to this foot mask debacle, I have found that generally women are ready to act quickly, rashly even to fix the problem (husband, children, friendships, mother in laws... you get it) without stopping to listen to what Jesus wants to say to us or do. Or don't give him the chance answer. The truth here is that if we seek Him, He WILL answer. He WILL guide us. He WILL prepare us for what is to happen.
I know right now life is overwhelming, maybe you've found plenty of time to spend with Jesus, or maybe you're hiding in your closet reading this email right now with no wiggle room in your routine, but ladies God is ready to meet you where you're at and help you navigate what comes next. Let's not be fully committed to something until we've read the manual!
I was already fully submitted to the process when I found out the repercussions of my yes. Had I read the reviews prior to committing, I might have decided a couple of days before a beach trip would be a bad time to shed layers of skin on my feet.
Maybe you have already said a painful yes... I want to encourage you that even though my rushed yes was in fact painful - my feet are now smooth! God isn't going to leave you in the middle of your messes, He is in the restoration business!
Together let's decided to read His word, ask Him what He thinks, and then choose to wait BEFORE we respond/act. He is speaking and He is speaking to you and me, let's listen!
Call to me and I will answer you, and will tell you great and hidden things that you have not known. - Jeremiah 33:3
So faith comes from hearing, and hearing through the word of Christ. - Romans 10:17